[Spotlight] Midwood Smokehouse
---
Located in the recently updated Cross Hill Market is a new barbecue restaurant that we had to check out. Midwood Smokehouse, a Charlotte, NC born restaurant, has made their way down to Columbia, and we're sure glad that they did. The team took the chance to set up lunch and give the new restaurant a try.
The first thing that we noticed when we walked in was the open and friendly atmosphere. The wait staff was top-notch, and made sure that we, along with the other visitors, were taken care of from start to finish. The interior features many rustic elements, such as the reclaimed wood wall and the iron features throughout the restaurant.
But we were really there for the food. All of Midwood's barbecue is prepared Texas Style in a slow cooking Hickory smoker that runs 24/7. Each member of the team tried something different, from the BBQ Chicken Sandwich to the Pulled Pork Sandwich to the Ribs. Combine this with a plethora of sides and a few decedent desserts, and each left lunch full and ready for an afternoon nap.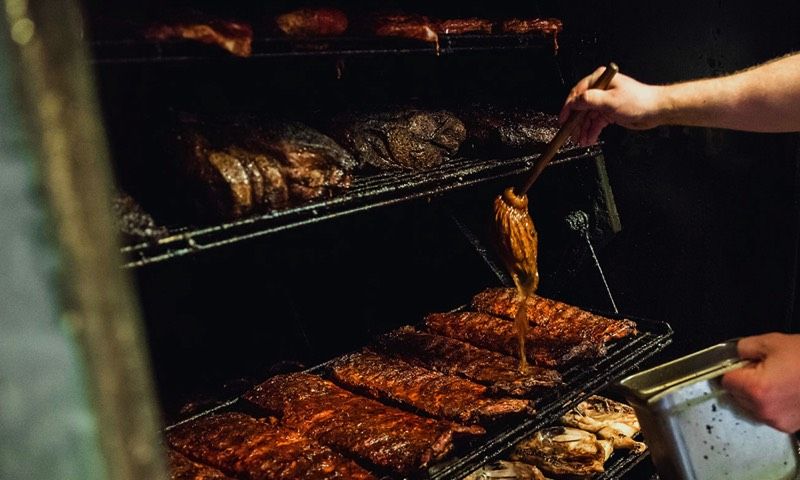 Some of the other great features of Midwood Smokehouse are its bourbon bar, with a wide variety of bourbons available for tasting, and the array of barbecue sauces that are sure to satisfy even the pickiest Southerner. From mustard based to vinegar based to ketchup based, you are sure to be able to find a sauce that you like at Midwood Smokehouse.

We had a great meal, and each of our team members left incredibly happy with their lunch. We'd definitely recommend that you give Midwood a try the next time you are down around Devine Street. You can find their full menu HERE, as well as a location and directions HERE.
Hungry For More Options?
Café Strudel is one of the staples of West Columbia. Since opening in 1977, Café Strudel...